The Next Door
Sponsored by Les Schwab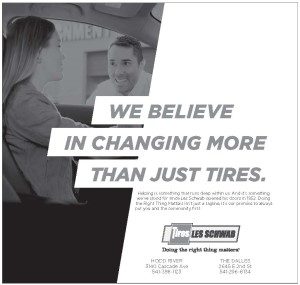 THE NEXT DOOR
1113 Kelly Ave
The Dalles, OR 97058
and
965 Tucker Road
Hood River, OR 97031
www.nextdoorinc.org
Rachel Schmitz
541-436-0307
Rachels@nextdoorinc.org
facebook.com/thenextdoorinc
MISSION & VISION
Opening doors to new possibilities by strengthening children and families and improving communities.
We envision a supportive community where all children and families are safe, healthy, and valued.
– PROGRAM OVERVIEW –
The Next Door has over two dozen programs that change the lives of our neighbors in need across our Gorge community. We help people overcome the barriers so they can achieve healthy lives and relationships by providing:
Positive support for children and youth at risk.
Home visiting for new parents
Education and treatment for youth in foster care.
Latino leadership opportunities and economic development in our communities.
Health prevention outreach.
The Next Door was started by concerned citizens as a group home in 1971. We have grown into the largest social service organization in the Columbia Gorge. The Next Door serves children and families in Hood River, Wasco, Sherman, Gilliam and Wheeler counties in Oregon, and Klickitat and Skamania counties in Washington.
P10609 GRG Gorge Giving 2020-proof (1) 9