St. Vincent De Paul
Sponsored by
Google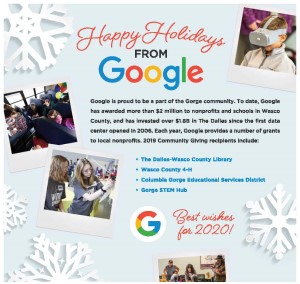 P.O. Box 533
The Dalles, OR 97058
541.296.9566
svdpthedalles.org
Serving Wasco County Since 1995 Non-Profit Tax ID: 93-1194490
MISSION & VISION
A network of friends, inspired by Gospel values, growing in holiness and building a more just world through personal relationships with service people in need.
-Program Overview-
BY THE NUMBERS
JANUARY THRU SEPTEMBER 2019
MINISTRY
» Cases logged 405
» People Served 692
» Emergency Housing 125 nights @$99 a Night
» Bus Tickets $1400.00
» Clothing Vouchers 412 people
» Propane 125
» Showers provided 983
» Laundry Loads 648
FOOD BANK
» Households 2285
» Number of people 7474
» Pounds of Food Provided 150,533
The warming place is open in The Dalles on the nights when temperatures drop toward freezing. Guests get something warm to drink and eat and settle into sleep in a warm room. Warming place is open as needed from Mid-November to Mid-March.
P10609GRGGorgeGiving2020 70