RADIO TIERRA KZAS
Sponsored by Cascade Acupuncture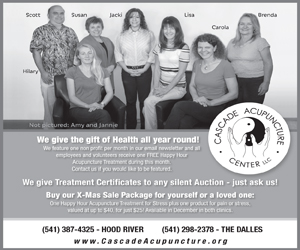 PO BOX 859
HOOD RIVER, OR 97031
(541) 387-3772
info@radiotierra.org
95.1 FM HOOD RIVER, OR
107.1 FM PARKDALE, OR
107.7 FM THE DALLES, OR
95.7 FM STEVENSON, WA
96.7 FM CARSON, WA
Mission Statement
Radio Tierra gives a voice to diverse communities. We provide quality and innovative broadcasts primarily in Spanish, to the Columbia River Gorge area and the world. We bring together our diverse populations, leading to mutual understanding, social justice and community development.
Vision/Goals
To understand, inform, and inspire a diverse and inclusive community.
– PROGRAM OVERVIEW –
Radio Tierra broadcasts 24 hours a day with innovative, informative and entertaining programming (informative morning shows, cultural programming, community information, English lessons, information on legal and immigration issues, etc.). A great source for local news and community events.
– GIVING OPPORTUNITIES –
Fundraising Events
Independence Eve at Bingen Theater
Annual Pledge Drive
Corporate Giving Opportunities
Radio Tierra partners with local business through underwriting and program sponsorship to fund our programming and operations. We look forward to working with local business to bring important programming to the gorge community.
Sponsorships/Donations
During our annual pledge drive we raise thousands of dollars through small donations from our listener base. Donations can be made at any time through our website, www.radiotierra.org
Volunteer
We are an all volunteer organization. Come learn about radio and help improve our station. We need help with fundraising.
Contact Information
PO BOX 859
HOOD RIVER, OR 97031
(541) 387-3772
info@radiotierra.org