Providence Hood River Memorial Hospital Foundation
Sponsored by Providence Hood River Memorial Hospital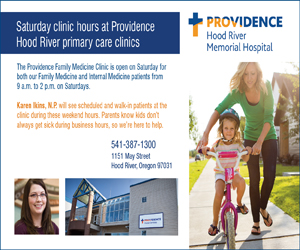 P.O. Box 149, 810 12th St.
Hood River, OR 97031
Susan Frost
Susan.frost@providence.org
541-387-6342
Mission
PHRMH Foundation is a nonprofit organization dedicated to enhancing quality health care within Providence Hood River and the Gorge communities it serves through philanthropy.
Vision
Our vision for the future is to build a healthier community through compassionate care, innovative programs and excellent service.
– PROGRAM OVERVIEW –
Partnering with the Providence Hood River Memorial Hospital Foundation is a way for you to support the community through Providence. We focus on care, services and programs serving the poor and vulnerable in our area. Creating a healthier community is our priority.
When you give through Providence Hood River Foundation, you make a big impact.
Here are just a few ways we invested our donor's gifts to support the Gorge community in 2017:
"Music in Memory" launched for patients and families dealing with memory loss
Comfort kits given to every patient going through chemotherapy at our Cancer Center
Upgraded hospital beds purchased for more comfort and safety at our hospital
Spanish and English support groups helped ease the way for families battling Cancer
Free mammograms provided for uninsured or underinsured patients
Respite stay given to vulnerable people displaced by the Eagle Creek Fire
Funded outreach by community health workers focusing on healthy living for women
Free bike helmets provided in our Emergency Department for kids and adults
Support for families experiencing child loss during birth
Free educational classes focusing on Diabetes prevention
Free grief support for children and teens through Providence Hospice of the Gorge
New for 2018: 3D Mammography/Tomosynthesis Campaign
Goal = $250,000 by June 1, 2018
Help us bring the best Breast Cancer screening technology to the Columbia Gorge. YOU can be part of the effort to improve outcomes and detect breast cancer earlier.
Please consider a gift to the 3D Mammography Campaign in honor of someone you love during the holidays. We will provide a beautiful card recognizing your donation for the honoree or their family members.
Statistics show that 1 in 8 women will develop Breast Cancer. According to a study by the Journal of American Medicine, 3D mammography detects 41% more invasive breast cancers and reduces false positives (false alarms) by up to 40%.
Call 541-387-6342 to find out more about making a donation.
– GIVING OPPORTUNITIES –
Sponsorships
Hearts of Gold Dinner – March, 2018
I Hate Cancer Concert – February 2018
Light Up a Life hospice memorial – December 2017
Various fund-specific activities throughout each year
Donations
Financial donations are accepted via cash, check or credit card. Online donations may be made at www.providencefoundations.org. In-kind auction and event donations are also sincerely appreciated.
Estate bequests or Planned Giving
Let us help you remember the foundation in your will or living trust. Providence provides free information kits on planned giving. Call the foundation today to request your complimentary planning kit.
Volunteer
Foundation volunteers help with events, clerical work and special projects.
Hospital volunteer positions are also available.