Opportunity Connections
Sponsored by Hood River Distillers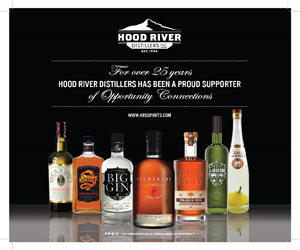 P.O. Box 698
Hood River, OR 97031
Mission
We have one mission: Maximizing Potential for People with Disabilities.
Goals
A community where people with disabilities participate in satisfying employment and lifestyles based on the same aspirations as all citizens.
– PROGRAM OVERVIEW –
Opportunity Connections is a private, non-profit organization that has been serving people in the Columbia Gorge since 1967. We help individuals with developmental disabilities to live as independently as possible while working and enjoying activities in their own communities. We serve people in Hood River, Wasco and Sherman Counties.
We help with all aspects of home needs and community life. We work with employers to make part-time positions available that are beneficial to both them and the employer. Our residential service offers 24-hour care in a group home setting. We also provide assistance to people in their own homes to live independently in safe and healthy environments.
We have an Art Gallery in The Dalles at 506 East 2nd Street, where we hold Art Classes for clients with disabilities. Please visit the Gallery or the Gallery website, www.opportunityconnections.org, and view our artists work. There is artwork, jewelry and greeting card packs for sale online and in the gallery which make great gifts.
– GIVING OPPORTUNITIES –
Fundraising Events
The Sprout Film Festival – This wonderful film festival is presented in various locations across the nation and features films produced by and starring people with disabilities.
The Mad Hatter's Tea Party – This annual spring event takes place at the beautiful Columbia Gorge Hotel and features an imaginative Alice in Wonderland theme. Kids can take part in cake walks and croquet on the lawn. There is also a silent auction full of unique gifts for tea sippers of all ages.
Wine on the Green – At the end of Summer we will have an afternoon of fine foods, great wines and cider, and music on the lawn at Divot's Indian Creek Golf Course. There will also be a live and silent auction.
Sponsorships
Sponsors are needed for all of our fundraising events. We accept in-kind donations for auction items all year around. To sponsor our events, contact us through our website at www.opportunityconnections.org.
Donations
It is an extraordinary feeling to know that your tax deductible gift helps those who need it most. You can provide tax deductible monetary donations to support our mission. Your donations are used to enhance and grow our services. Art supply donations for our Artists in the Art Connect program are also greatly appreciated.
You can donate through Pay Pal, mail a check or visit our Gallery at 506 E 2nd Street in The Dalles. Find out how at www.opportunityconnections.org or call 541-386-3520 Ext 7001 for more information.
P10192 Gorge Giving Guide 2019 31