One Community Health
Sponsored  by Hood River Care Center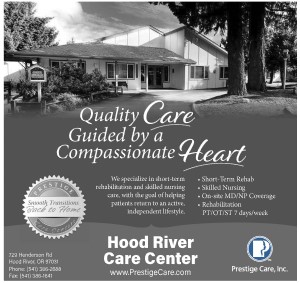 ONE COMMUNITY HEALTH
849 Pacific Ave.
Hood River, OR 97031
1040 Webber St.
The Dalles, OR 97058
HRVHS
1220 Indian Creek Road
Hood River, OR 97031
Mission and vision
To advance health and social justice for all members of our community.
One Community Health is loved and trusted by our patients and staff because we treat each with respect and empathy. Ninety-seven percent of our patients recommend their family and friends to us. Our teams advance individual health outcomes and equity throughout our community. Our commitment to whole-per-son health puts patients at the center
of team-based care. We are an essential community leader and a preferred partner to advance health and social justice.
As a proven leader and collaborative partner, we are an essential community asset and a sound choice for investments to advance health. Our 2020 goals include engaging families at key life events in resilience building to prevent and recover from trauma, abuse and neglect, becom-ng the bi-cultural provider of choice for whole-person, integrated care and scaling and transforming our focus from individual disease management to disease prevention and population health.
Program Overview
One Community Health is the Columbia River Gorge's nonprofit community and migrant health center. We provide an integrated approach to medical, dental and behavioral health care, plus offer substance use disorder treatment and health education that supports total wellness.
Families turn to us time and time again for everything from obstetrics to pediatric care, youth dental prevention and treatment programs, and our School-Based Health Center, now available to all students living in Hood River County School District. Patients come to us not just for their acute needs but to thrive through whole-person health.
We began in 1986 as La Clínica del Cariño, a clinic for migrant farmworkers and their families.
Over the years, One Community Health has responded to our community's needs by expanding our mission and services. Thanks to our improved access to care and the loyalty of our talented staff , we are growing our impact and reach. In addition, we enroll and assist more people in Medicaid than any other organization in the Gorge.
Today, celebrating more than 30 years of service, we are grateful as well as proud to offer affordable, high-quality care to all people living in Hood River, Wasco, Skamania and Klickitat Counties.
P10609 GRG Gorge Giving 2020-proof (1) 49