Mid-Columbia Health Foundation
Sponsored by Mid-Columbia Medical Center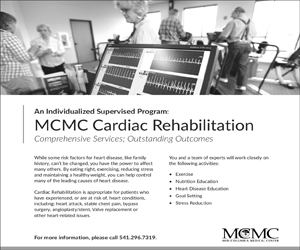 1700 E 19th St.
The Dalles, OR 97058
mchf@mcmc.net
www.mcmc.net/mchf
541-296-7275
Building a Healthy Community!
Mission
Work together with and provide financial support to Mid-Columbia Medical Center in order to provide access to quality healthcare for our community
We Support
Nursing students through four different scholarships
Graduating High School students through two scholarships
Local nonprofits through our Area of Greatest Need Grant
Cancer patients through the Celilo Cancer Center Fund
Underserved women in need of mammograms through the Breast Health for Strong Families Program
Literacy in early childhood through the Reach Out and Read Program
Diabetic patients through the Susan D. Petersen Diabetes Assistance Fund
The latest in medical technologies at MCMC
Activities and programs that promote community health and wellness
Cardiac patients through the Cardiac Rehabilitation Fund
– PROGRAM OVERVIEW –
BUILDING A HEALTHY COMMUNITY
Established in 1983, the Health Foundation strives to leverage donations from our generous community members to work towards a common goal; building a healthy community. We raise money through donations in memory of loved ones, gifts from grateful patients, donations from the community in general, MCMC's employee giving campaign, special appeals, grants and events.
– GIVING OPPORTUNITIES –
Each year the Mid-Columbia Health Foundation hosts three signature events. We strive to use the businesses within our community to carry out our events; utilizing caterers, printers, retail establishments and event rental space. Each event is an opportunity to join us in our goal of building a healthy community. We welcome donors, event participants, volunteers and sponsors to contact us at 541-296-7275 or email mchf@mcmc.net.
Festival of Trees
Celebrating Tradition Kick off the holiday season with Festival of Trees the first Friday in December. Festival of Trees consists of a live auction of up to 30 decorated trees along with themed silent auction items. Nearly 40 volunteers from the community help make the Festival of Trees a success.
Tradition of Compassion
Philanthropy Awards The Tradition of Compassion Philanthropy Awards was created to honor the businesses, organizations and people that make our community great. Nominees in four categories are accepted year round and award recipients are announced at a ticketed event which is held on the first Thursday in March. The celebration of our award recipients continues with a donation made to their charity of choice.
Tournament of Tradition Golf Benefit
The first Monday & Tuesday of June marks our annual golf benefit. Up to 45 teams compete in this two day tournament full of fun, food, games, prizes and of course, golf. The course is manned with about 40 volunteers who ensure that players get the most out of their golfing experience. Proceeds from the tournament benefit various projects and programs of the Health Foundation at the discretion of the Board of Directors. So get a foursome together and join us on the green!
P10192 Gorge Giving Guide 2019 21

Ways to Give
General Donations
Donations are accepted year round. Donations can be made in the form of cash, credit card, recurring monthly or quarterly gifts, pledges paid over time and sponsorships of special events and projects.
Support Cardiac Rehab Patients In Need
Cardiac rehab program participants are led through recovery from a cardiac event or diagnosis by a team of experts at MCMC including the program coordinator, exercise specialists, physicians, physical therapists and dietitians. Your donation will help patients with things like transportation, proper shoes for exercise, program fees and education. Donate online at www.mcmc.net/mchf.
P10192 Gorge Giving Guide 2019 21