Mid-Columbia Community Action Council, Inc.
Sponsored by Copper West Properties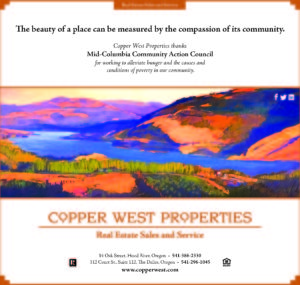 312 E 4th St
The Dalles
205 Wasco Loop #101
Hood River
Office Hours:
Monday – Friday 8am – 5pm Closed Noon – 1pm
Mission
Community Action changes people's lives, embodies the spirit of hope, improves communities and makes America a better place to live.
Who is Assisted
Low-income individuals and families residing in Wasco, Sherman, and Hood River counties
More Information
For more information about Mid-Columbia Community Action and the ways it helps people change their own lives, please contact: Jim Slusher, Executive Director, 312 E. 4th St. The Dalles, 541-298-5131, or js@mccac. com. MCCAC is an equal opportunity provider.
-Program Overview-
Mid-Columbia Community Action Council, Inc. (MCCAC) originated in the Dalles in 1966, at a time when communities throughout the nation became involved in the fight against poverty
(President Johnson's War on Poverty).
Once established as a non-profit, MCCAC began offering a variety of assistance programs to low-income individuals and families in need.
The goal: To mitigate or ultimately break the cy-cle of poverty in Wasco, Hood River and Sherman Counties by assisting people to become eco-nomically self-reliant. To that end, MCCAC offers Energy Assistance programs designed to offset the high cost of home heating. Seniors and disabled families are prioritized, but these programs are also open to the general public. Money saved
on heat bills can be put toward other important costs such as food, rent, medicine, daycare or car insurance.
MCCAC weatherization funds enable low-in-come families who have been regular energy assistance recipients to get their homes and (in some cases) apartments, weatherized at no cost to themselves, thereby permanently lowering heating bills.
MCCAC's housing programs can help people who are literally homeless get off the streets and into permanent housing. The agency also has limited funds designed to assist people to prevent eviction. In some cases, ongoing rent assistance can be offered, accompanied by case management.Beginning in July of last year, MCCAC unfurled its Supportive Services for Veteran Families (SSVF) program. SSVF is funded by the VA and designed primarily to assist very low income homeless veterans and their families get into the housing of their choice, and to stay there. The SSVF program also has limited funding to assist very low income veterans and their families to stay in their homes if they are at imminent risk of eviction and lack the resources to stop it. As with the agency's other Federally funded housing programs, MCCAC operates the SSVF program on a Housing First model, with the primary focus being to address homelessness first, before asking for resolution of other issues, including addiction/ substance abuse and mental health disorders. Requirements for the SSVF program are that the Veteran must have served on Active Duty, received a Discharge other than Dishonorable, and the family's income be at or below 50% of the Area Median Income, based upon family size.
Biggest Challenge
There is a severe shortage of housing in Wasco County, as well as in the other counties (Hood River; Sherman) MCCAC serves. In many cases, especially these last two years, the agency has had the money to assist a homeless family to get into a place and the money to keep that family housed until its economic circumstances become better. But the lack of housing, especially "affordable" housing, is the biggest barrier. In some cases, MCCAC has been unable to spend out its homeless funds (in time), due to the area's lack of affordable housing stock.
Other Challenges
State and Federal program funds come with many restrictions. Private donations to MCCAC for its housing programs are very welcome, as these enable the agency to do more, for more people, thinking "outside the box" of state and federal regulations. To donate, make checks out to MCCAC, PO Box 1969, The Dalles, OR. 97058. The agency also has a website at www.mccac.com and donations can be made through the site.