Mid-Columbia Children's Council
Sponsored by Pietro's Pizza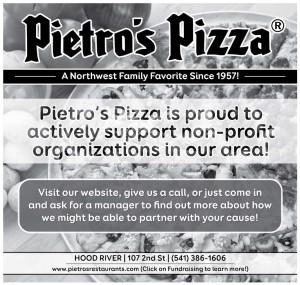 MID-COLUMBIA CHILDREN'S COUNCIL
1100 E. Marina Way, Suite 215 Hood River, OR 97031 Phone: 541-386-2010
Fax: 541-386-4597
www.mcccheadstart.org
MISSION
Educating children and families with innovative, high-quality early child-hood learning opportunities and family partnerships to build better communities, one person at a time.
VISION
Nurturing Children and Families Today, Strengthening Communities for Tomorrow
– PROGRAM OVERVIEW –
MCCC has 4 programs designed to promote kindergarten readiness skills for children from low-income families. Our Early Head Start program is designed to support pregnant moms and children 0-3 years old through our educational home visits or center-based care. Our Head Start program offers free preschool for children ages 3-5 concentrating on developing social and emotional skills, language and literacy, mathematics, and physical development. Oregon
(Oregon PreK) and Washington (ECEAP) off er programs for children ages 3-5 years old similarly to Head Start.
All of the programs support the health and well-being of low-income families by providing free early learning, child health and nutrition, parent involvement and family support, and culturally responsive services. MCCC strives to provide high-quality early childhood education services to families in need.
P10609GRGGorgeGiving2020 103