Hood River Valley Residents Committee
Sponsored by Wilson Street Medical Clinic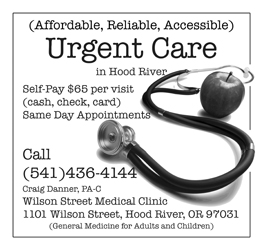 PO Box 1544
Hood River, OR 97031
www.hrvrc.org
Executive Director
Heather Staten
Phone: 541-490-5225
"Protecting the Place You Love"
Mission
To protect Hood River's farms, forests, special wild places and the livability of its cities and rural communities.
Program overview
After 41 successful years, we have changed our name from Hood River Valley Residents' Committee to Thrive Hood River. The new name and brand identity put instant focus on our vision: a thriving community for all.
Founded in 1977, Thrive is a hyper-local land-use organization focused on the livability of the Hood River Valley. From the beginning, we believed that wise land-use planning means taking the long view, that we must plan for the future, not just for today's needs. We've worked for over four decades to shape Hood River into the place it is today by ensuring that farmland remains farmland, growth happens at a sustainable pace, and that our cities are shaped into ever more special places. As Thrive enters its fifth decade, we aim to become even more inclusive of our community, and we invite current, new and future generations of all cultures to join forces with us in making smart choices to shape Hood River's future.
In recent years, Thrive has served as a lead organizer for Streets Alive! Hood River, we brought national expert Dan Burden to Hood River to lead the community in a walking audit of the Heights neighborhood and business district and we worked with the Hood River County School District on safe routes to schools planning to get more kids walking and biking to school. We also advocated for commonsense rules to curb the burgeoning growth of vacation rentals in the rural parts of the county.
P10609GRGGorgeGiving2020 77