Hood River Shelter Services
Sponsored by Walmart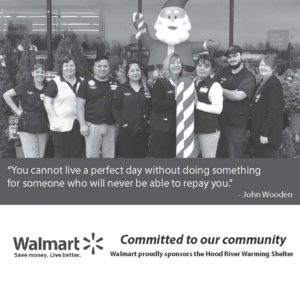 HOOD RIVER SHELTER SERVICES
Shelter Location:
317 State Street at Riverside Community Church in Hood River
Mailing Address:
P.O. Box 656
Hood River, OR 97031
www.HoodRiverCares.org
info@hoodrivercares.org
MISSION & VISION
At Hood River Shelter Services, our mission is to compassionately provide a safe place to meet the basic needs of those without shelter during the winter.
GUIDING PRINCIPLES
» We respect the dignity of all people and treat our guests with respect.
» We aim to create a space that is physically and emotionally safe for everyone.
» We understand that homelessness can affect anyone at any time and we are here to help without judgment.
» We welcome community involvement.
OPERATING SEASON
November –March
6pm–7am, seven days a week
P10609GRGGorgeGiving2020 72