Hood River Shelter Services
Sponsored by Walmart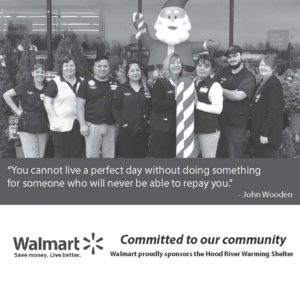 P.O. Box 656
Hood River, OR 97031
(541) 399-2057
www.hoodrivercares.org
hrws@hoodrivercares.org
Objective
When the temperature reaches 35 degrees or below, we will provide the homeless in our community with warm and safe overnight accommodation and nourishment within a quiet and welcoming atmosphere.
Goals
Our guests are to be treated with dignity and respect.
Our organizational principles will be as simple and non-bureaucratic as possible, consistent with a "welcoming atmosphere."
We welcome community involvement.
– PROGRAM OVERVIEW –
The Hood River Shelter Services is a coalition of community members representing service providers, nonprofits, faith-based communities and local government who have come together to ensure that homeless people have shelter during extremely cold weather. The mission of the HRSS is simple: to ensure that homeless people in Hood River County have a place to sleep indoors when temperatures drop to 35 degrees or below. Although the Hood River Shelter Services is chartered under the umbrella of Gorge Ecumenical Ministries (GEM), participation is not limited to GEM member churches.
Purpose
These Standard Operating Procedures (SOP) lay out the protocols for implementing the Hood River Warming Shelter (HRWS) during extremely cold weather. HRWS is an emergency shelter for those without housing to provide them a safe and warm space in such conditions. Unsheltered persons, especially those living with medical, mental health, or addiction issues, are even more vulnerable in times of inclement weather. HRWS's purpose is to ensure as best it can that all those who need and want shelter in extremely cold weather have it. These SOP will ensure the safe and effective operation of HRWS for staff and volunteers as well as safeguarding the people we are serving.
Public and Private Stakeholder Groups
The following organizations were instrumental in creating, planning, and implementing the Hood River Shelter Services program:
Local Churches:
Asbury United Methodist Church
Hope and Life Hispanic Church
Hood River Christian and Missionary Alliance
Hood River Church of the Nazarene
Hood River Valley Christian Church
Immanual Lutheran Church
Riverside Community Church
Shepherd of the Valley Bible Church
St. Mark's Episcopal Church
St. Mary's Catholic Church
Unitarian Universalist
The Vineyard Church
Organizations:
FISH Food Bank
Faith Connection
Give Them WINGS, INC.
Gorge Ecumenical Ministries
Hood River Commission on Children & Families
Hood River County Schools
Hood River County Sheriff's Dept.
Hood River Policy
KBNO Hispanic Radio
LEOs
Providence HR Memorial Hospital
Hood River Safeway
Soroptomists
United Way
Walmart
– GIVING OPPORTUNITIES –
Volunteer
We're gearing up for another shelter season and would love to have you join our team of volunteers!
When: Monday November 14th, 6:30 p.m. – 9:00 p.m.
Where: Immanuel Lutheran Church – 305 9th St., Hood River, OR 97031
Who: Anyone who is interested in volunteering at the shelter this winter or just wants to find out more – and DID NOT go through training last season.
If you are unable to make this training session but are interested in volunteering, please email us (hrws@hoodrivercares.org) and let us know what evenings work best for you.
Donate
Hood River Warming Shelter is a 501c3 not-for-profit organization registered through Gorge Ecumenical Ministries. All donations are tax deductible. Donations can be made at our website: http://hoodrivercares.org/donate/