Hood River Adopt A Dog
Sponsored by Cascade Pet Camp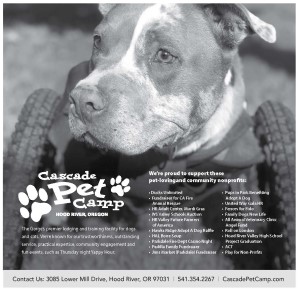 Operating out of the
Hukari Shelter
3910 Heron Drive
Hood River, OR 97031
(in Odell)
To serve as a safety net for dogs.
Adopt A Dog's purpose is to:
» Provide placement of homeless dogs with caring owners
» Provide humane and quality care for all shelter dogs
» Drastically decrease euthanasia
» Reduce pet over-population by spaying/neutering
» Be a resource for community members
» Provide safe and supportive opportunities for volunteerism
» Provide discounted vet services for families in need
» Provide pet education
– PROGRAM OVERVIEW –
– PROGRAM OVERVIEW –
Since 2009 Hood River Adopt A Dog, a local non-profit and no kill program, has provided the care, feeding , medical treatment and adoption services for the lost, surrendered and abandoned dogs in the Gorge at the Hukari Animal Shelter in Odell, Oregon.Our staff and volunteers work tirelessly to make this amazing work happen, providing over 9,000 hours of care each year. From our loving network of foster families, to the twice daily shelter visits from our caring volunteers along with our talented and dedicated staff , who work 365 days a year, we strive to make sure each dog leaves our program in better shape than when they arrived at the shelter.
With funds raised by Hood River Adopt A Dog, all adopted dogs are spayed/neutered, vaccinated, microchipped and, all too often, are provided urgent medical care made necessary. We rely on donations, small grants, fundraisers and minimal adoption fees to do this work. In return for their care, our dogs "pay it forward" by bringing fun and love to their new families!