Helping Hands Against Violence
Sponsored by Providence Hood River Memorial Hospital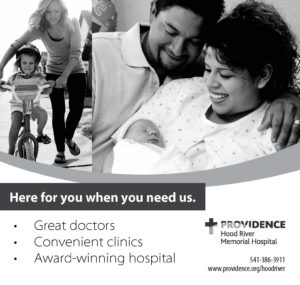 PO Box 441
Hood River, OR 97031
Office 541.386.4808
Fax 541.386.2194
www.helpinghandsoregon.org
www.facebook.com/HelpingHandsAgainstViolence
director@helpinghandsoregon.org
HOTLINE – 541-386-6603
Office – 541-386-4808
Mission
Helping Hands Against Violence, Inc. is dedicated to serving survivors of domestic violence, sexual assault and stalking by providing safety, shelter, advocacy, education and outreach..
Vision / Goals
To increase community awareness of our advocacy and shelter services. To increase education about healthy relationships and to help prevent future incidents of sexual violence.
– PROGRAM OVERVIEW –
Helping Hands Against Violence is a non-profit organization which offers shelter and safety to survivors of domestic violence, sexual assault, and stalking. The shelter provides six individual rooms for victims and their families, and shared living, playroom, kitchen and laundry. The transitional housing center is available for survivors for longer stays (up to a year) before they are able to be more self-sufficient.
Services Helping Hands provide for survivors of sexual violence include:
24 hr hotline
Advocacy (and Spanish bi-lingual advocacy)
Co-located Advocate at DHS
30-day emergency shelter for up to six families
Emergency food, clothing, necessities for families in (or out of) the shelter
Transportation for survivors in shelter
Safety planning
Assistance with moving and setting up a new household
Transitional housing program
Peer support group –to assist with emotional support for survivors
A Survivor's Testimonial:
"I was a mess—a real mess—when I arrived at Helping Hands. I could barely talk, would only sit on the floor. I wouldn't eat, or leave my room. The years of turmoil hit me like a ton of bricks. Daily I was in the office with Karen and Serra. They offered me soup, bean burritos. They never forced anything upon me but I knew they were there for me, when I was ready—to eat, to talk, to heal. I learned that they cared about me, and were fighting for me, daily, even when I would not fight for myself. The advocates at Helping Hands were my rocks. Now, in a different way, they still are."
– GIVING OPPORTUNITIES –
Fundraising Events
The Helping Hands Auction Gala (usually late October) includes a live and silent auction with live music. Sponsorships available. Aporkalypse now (usually in February) is all-things-bacon event, the fun way to sizzle the winter blues. Sponsorships available.
Corporate Giving
Helping Hands has numerous corporate giving opportunities for organizations to support a particular program or set up an employee match program. We can also create service opportunities for small organizations.
Sponsorships
Sponsorships of all levels are available at each of our fundraisers. We have numerous specific needs throughout the year. Contact Helping Hands to find out how your businesses sponsorship could best fit our critical needs.
Donations
We welcome financial support throughout the year. Donations go to our greatest need, unless otherwise specified. Other options include the endowment fund, the Millie May Memorial Scholarship fund. You can do a one-time donation or set up monthly contributions. You can mail us a check or donate on line www.helpinghandsoregon.org .
In-kind Donations
We are always in need of everyday household goods. Please call us or visit our website www.helpinghandsoregon.org to find out about our current wish list to help with shelter needs.
Volunteer
Volunteer opportunities are always available. Direct client contact requires at least 40 hours of training; however, we can always use the help of individuals with expertise in landscaping, construction, home décor, roofing, plumbing, event planning, fundraisers and database/website/office assistance.
HOTLINE – 541-386-6603
OFFICE – 541-386-4808