COLUMBIA GORGE STEM HUB
Sponsored by
Google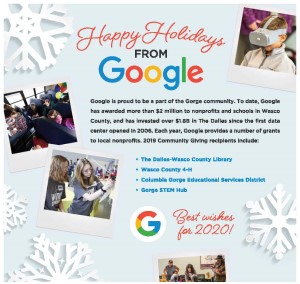 Columbia Gorge Education
Service District
400 E Scenic Dr., Suite 207
The Dalles, OR 97058
541-296-2046
gorgestem.org
MISSION & VISION
The Columbia Gorge STEM Hub serves as a central point for communication and coordination for STEM education. STEM stands for science, technology, engineering, and mathematics and represents a hands-on approach to education, allowing students to apply their learning to solving real-world problems.
As a collective impact organization, we partner with schools, nonprofits, and businesses who share a common understanding:
increasing opportunities for all students in our region is crucial in developing a career-ready, diverse, adaptable workforce.
In collaboration with the Gorge Tech Alliance and Southwest WA STEM Network, we serve the following counties:
» Gilliam
» Hood River
» Klickitat
» Skamania
» Sherman
» Wasco
» Wheeler
A few examples of our work:
STUDENT PROGRAMMING
» Chief Science Officers – 6TH-12TH graders are elected by their peers to be advocates for STEM and innovation.
» Maker Club – after-school STEM program for elementary students. Built on the idea that hands-on learning and making promotes problemsolving skills, perseverance, and creativity.
» STEM Family Kits – over 25 kits, each with books, activities, and family guides. Available at local libraries.
EDUCATOR SUPPORT
» Symposium – annual training event to help educators integrate digital tools and STEM into the classroom.
» Microgrants – funds for educators to expand STEM opportunities for students.
» Lending Library – classroom tools available for educators throughout the region.
REGIONAL SYSTEMS & COLLABORATION » Gorge STEM Fair – region-wide community event bringing together 50+ cross-sector partners.
» Regional Strategy Alignment – facilitating collaboration and strategic thinking among regional leaders around career connections and STEM education.
» Communications – newsletters and more for educators and the community to keep a pulse on STEM in the Gorge. Signup at www.gorgestem.org/contact-us.
P10609GRGGorgeGiving2020 71