Columbia Gorge Pregnancy Resource Centers
Sponsored by Bell Design Co.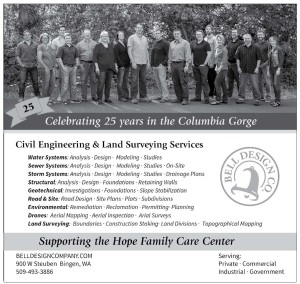 (Previously: Columbia Gorge Pregnancy Resource Centers)
info@gorgehope.org
www.gorgehopefamily.org
Hood River
1942 12th Street
Hood River, OR 97031
541-386-1050
The Dalles
3206 W. 6th St. Ste 200
Thee Dalles, OR 97058
541-296-0650
Mission and Vision
We provide life affirming support and medical services to those facing unexpected pregnancies or already impacted by abortion. We believe that regardless of their stage of life, all humans deserve to be seen, valued, and loved.
We provide pregnancy related medical services such as pregnancy tests, ultrasounds, and more. We equip parents with resources and education that will encourage positive relationships with their children. And, we provide after abortion support for those in need. We are willing to meet our clients wherever life has led them, hoping they will finish the program feeling empowered for their future.
– PROGRAM OVERVIEW –
Hope Family Care Center is a faith-based organization serving the Columbia Gorge All services are free of charge: Hope Pregnancy Clinic
(opening early 2020)
• Consultation with a licensed medical professional
• Limited ultrasound for pregnancy con rmation
• Testing for sexually transmitted infections and diseases
Hope Family Center
• Pregnancy decision coaching by trained advocates
• Information about pregnancy options • Material resources (diapers, wipes, clothing, baby items)
• Education (pregnancy, parenting, healthy relationships)
• After abortion healing programs
P10609GRGGorgeGiving2020 65