Columbia Gorge Dyslexia Fund
Sponsored by
Columbia Gorge Family Medicine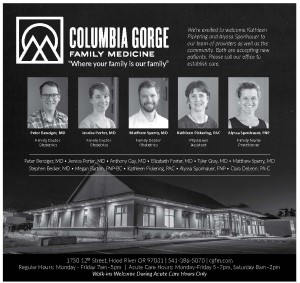 Fund is managed by Gorge Community Foundation
P.O. Box 1711
Hood River, OR 97031
541-821-6560
Mission
Columbia Gorge Dyslexia Fund empowers parents and educators with resources, enabling them to meet the needs of children with dyslexia so they can reach their fullest potential.
Vision
We envision a community where dyslexic children thrive in and outside the classroom.
Goals
• Provide dyslexia tutoring scholarships for children.
• Provide scholarships to individuals interested in becoming dyslexia tutors.
• Provide dyslexia focused professional development opportunities for educators in the Columbia Gorge region.
• Community Education and Outreach.
-Program Overview-
We envision a community where dyslexic children thrive in and outside the classroom.
By giving parents and educators proper training in dyslexia they will be empowered to discern dyslexia warning signs and use appropriate ac-commodation that can change the life of dyslexic children.
We understand that our current education model is burdened and not yet capable of utilizing evidence and research-based remediation programs specific for students who show signs of dyslexia. CGDF hopes to lighten the financial load by providing resources for early screening, teacher training, access to appropriate assistive technologies and tutoring scholarships. We believe the Columbia River Gorge can be a shining example of a community that nourishes its children to reach their greatest potential.
Dyslexia is a language-based learning difference. It refers to a cluster of symptoms that result in difficulties with specific language skills, especially word decoding, reading comprehension and or reading fluency. Dyslexia can be mild or severe.
Dyslexia affects the brain.
Specifically, it affects the part of the brain where the sounds are put together to form words and where words are broken down into sounds. Learning Differences are not related to IQ.
They do not affect how INTELLIGENT a person is.
• 1 in 5 / 20% of people are dyslexic.
• 35% of entrepreneurs are dyslexic.
• 40% of dyslexics also have ADHD.
• 50% of NASA astronauts are dyslexic.
• Dyslexia is hereditary.
P10609 GRG Gorge Giving 2020-proof (1) 23