Columbia Gorge Community College Foundation
Sponsored by Columbia Gorge Community College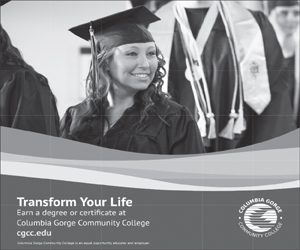 400 East Scenic Dr,
The Dalles, OR 97058
1730 College Way,
Hood River, OR 97031
www.gorgefoundation.org
foundation@cgcc.edu
541-506-6113
Mission Statement
To build dreams and transform lives by cultivating respectful relationships that promotes lifelong learning…
Board of Directors
2016-2017
Anne Bialous
John Brunk
Martha Capovilla
President
Jennifer Christensen
Student Services Liaison
Martha Dell
Erin Ford
David Griffith
Mary Gumm
Linda Hardham
Mindi Macnab
Dave Mason
Vice President
Jonathan Neptune
Student Liaison
Donella Polehn
Dan Ropek
Faculty Liaison
Sidney Rowe
Treasurer
Sarah Segal
CGCC Board Liaison
Richard Stillwell
Paul Thompson
Charles Toole
Secretary
Lori Ufford
CGCC President
Marilyn Urness
Sara Viemeister
Student Services Liaison
Carol York
– PROGRAM OVERVIEW –
Contributing to the foundation makes a lasting impact on the lives of people in our community, by providing resources for students to attend school as well as opportunities for faculty and staff to develop in their areas of expertise. CGCC serves more than 5,000 students annually from Skamania, Klickitat, Hood River, Wasco and Sherman counties.
The purpose of Columbia Gorge Community College (CGCC) Foundation is to advance and promote the interests and development of the college, its students, its programs, its staff and faculty and its community. Donors may support various funds within the foundation including:
Unrestricted (for the greatest need)
Endowment
Student Success Initiatives
General Scholarships
Nursing Scholarships
Electro-Mechanical Technology Scholarships
Gorge Literacy Program
Faculty and Staff Development
In 2016-17, CGCC Foundation awarded more than $130,000 in scholarships to 72 students.
MORE REASONS TO GIVE
• Community colleges are an integral part of the community, and are a stable educational force that keeps social capital in the local community.
• They help build the local workforce, andsupport civic values.
• Community colleges are a good investment in the future and are a quality alternative to high-cost undergraduate education.
• They help expand the circle of economical and personal opportunity, through which
diverse interests can be supported.
The return on your investment in CGCC is realized through students graduating with degrees and certificates, community outreach, and a commitment to excellence.
– GIVING OPPORTUNITIES –
Donors may choose to support CGCC Foundation in different ways, such as to:
Make a donation (cash, online and recurring, corporate matching, Oregon Cultural Trust matching, pledge, gift-in-kind)
Include in planned gift/estate plans
Volunteer
Sponsor a fundraiser
Participate in a fundraiser
Fundraisers
Founder's Cup Golf Tournament
(summer)
Bike Tour Fundaiser (fall)
Country Western Dance and Live Auction (spring)