Columbia Gorge Cat Rescue
Sponsored by Columbia Gorge Cat Rescue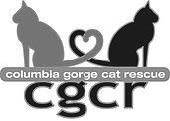 PO Box 231
Hood River, OR 97031
541-386-2743
columbiagorgecat@gmail.com
www.gorgecat.org
Mission
Columbia Gorge Cat Rescue is a volunteer, 501(c)3 nonprofit organization dedicated to rescuing, rehabilitating and placing the community's abandoned, neglected and injured cats and kittens into loving, lifetime homes. We provide a low- or no-cost spay/neuter program for stray and feral cats, as well as adoption services for homeless cats, and foster care for cats still waiting for their forever homes.
Vision
Based on our experiences over the last 10 years, we know our services are not sufficient to help homeless cats in this region. Our goal is to increase our funding, so that we can do much more to tackle the problem of cat-overpopulation in the Columbia Gorge.
– PROGRAM OVERVIEW –
Based in Hood River, Columbia Gorge Cat Rescue serves Hood River County, as well as parts of Wasco, Klickitat and Skamania counties. Our income is derived solely from donations, grants, small adoption fees, and fundraising events. We receive 40-50 inquiries a month requesting help with injured and abandoned cats. In 2015, over 800 cats were spayed or neutered, and 473 were adopted. Our costs are kept to a minimum as most tasks are done by volunteers, while local veterinarians are hired at reduced rates to perform spay/neuter surgeries and other procedures.
Spay & Neuter Program for Adoptable Cats: Provides temporary foster homes for adoptable homeless cats and kittens until permanent homes are found. The cats are fixed, tested for feline leukemia and FIV, vaccinated, and microchipped. A small adoption fee helps cover vet costs. Because of the number of homeless cats in need, CGCR does not fix cats that are pets.
Feral Trap/Neuter/Return Program (TNR): Helps humanely trap, alter, and vaccinate cats in feral colonies to reduce overpopulation, disease, and suffering. Afterward the cats are returned to their original location if a caregiver has agreed to provide food, water, and shelter for them. A donation is suggested from the person calling about the cats, but even if individuals are unable to donate toward vet costs, CGCR remains committed to altering the cat.
– GIVING OPPORTUNITIES –
Volunteer
Foster cats and kittens, answer public inquiries, clean, transport cats, photograph felines, trap homeless cats, and help raise funds.
Do you have extra cat food?
We can always use it! You can drop it off at Parkhurst Place Assisted Living any day of the week — no need to call first. Unopened cans or sealed bags only, please.
Parkhurst Place, 2450 May St., Hood River, Oregon.
Shop AmazonSmile & Help CGCR!
Amazon donates 0.5% of the price of your eligible AmazonSmile purchases to Columbia Gorge Cat Rescue when you sign up at smile.amazon.com.
Do You Shop at Fred Meyer?
Sign up for the Community Rewards program by linking your Fred Meyer Rewards Card to Columbia Gorge Cat Rescue at Fred Meyer Rewards. You can search for us by our name Columbia Gorge Cat Resuce. Then, every time you shop and use your Rewards Card, you are helping us earn a donation!!
Corporate Giving Opportunities'
Sponsor an event, donate services.
Sponsorships 
Sponsor a spay/neuter every month ($50) for a year; help feed a rescue cat for a month ($25).
Donations
By mail to: Columbia Gorge Cat Rescue, P.O. Box 231, Hood River, OR 97031
Online by credit card or PayPal at: www.gorgecat.org OR www.gorgecat.petfinder.com