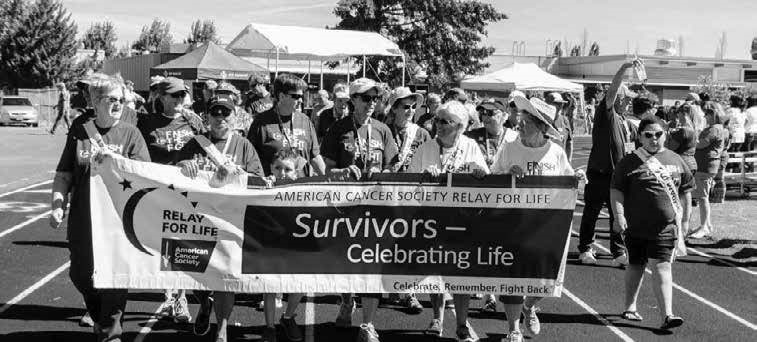 Sponsored by
MISSION & VISION
AMERICAN CANCER SOCIETY
0330 SW Curry St.
Portland, OR 97239
The American Cancer Society's mission is to save lives, celebrate lives, and lead the fight for a world without cancer.
We know a cancer diagnosis can be scary – and overwhelming. Whether you need emotional support, the latest cancer information, a ride to chemo, or a place to stay when treatment is far away, we're here to help – 24 hours a day, 7 days a week.
The American Cancer Society
leads the way in breakthrough cancer research and access to care programs including, free rides to treatment, free lodging near medical facilities, and a 24/7 helpline. Your tax-deductible donation helps fund innovative research and provide hope throughout the Oregon and SW Washington
area. Give today to push us closer to a world without cancer.
For more information on how you can volunteer for or donate to the American Cancer Society of Oregon & SW Washington, please call 503-295-6422 or visit us online at www.cancer.org/oregon.
Program Overview
Communities attacking cancer
The American Cancer Society Relay For LifeMovement is the world's largest fundraising Event to save lives from cancer.
Communities and individuals across the globe unite in the fight against cancer as they form teams and raise critical funds.
Symbolizing the battle waged around the clock By those facing cancer, Relay For Life events last up to 24 hours and empower communities to help us free the world from cancer.
Thoughtful ceremonies, including the Luminaria Ceremony are held throughout the duration of the event to honor cancer survivors and caregivers, remember loved ones lost to the disease, and fight back against cancer.
We are empowering our volunteers to make a difference in their own communities in more ways than ever before. How can you help save lives?
Walk, run, spin, throw, bake, dance, climb, craft – just about anything you like to do is a good place to start. The opportunities to fight back against cancer are endless!
Be a part of the planning or participate in an event. Learn more by visiting www.
relayforlife.org/midcolumbiaor or calling 800-227-2345.